You'll notice a significant redesign of my Web site for this semester - I'm teaching Web Programming & Administration (CBIS 4505) for the semester, and I like to practice what I preach in terms of Web design. Below are quick links to important areas of the site, for speed and convenience. Please feel free to bookmark my site so you can come back frequently throughout the semester.

Quick Course Links:

CBIS 3213 (Networking) - CBIS 4210 (Java) - CBIS 4505 (Web Prog & Admin)

Office Hours:

Mondays and Wednesdays, 9-11 am and 5-6 pm, and by appointment as needed.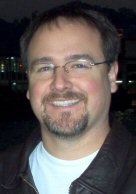 A picture of me on New Year's Eve in Hong Kong Harbor